. . . so that she won't use it against you in the future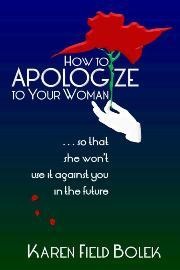 Why is apologing to a woman in love so important?

When a woman becomes upset by a man's words or behavior, it's because she feels devalued by him. Therefore, an effective apology has to help the woman regain her feelings of value. Yet it's just as important for the man to feel okay about himself when he's apologizing, in spite of having made a mistake. In an effective apology, the man retains his dignity while taking responsibility and ends up feeling competent by helping his woman feel valued again. One of the secrets to apologizing effectively involves forming the right attitudes before beginning to apologize.

Moreover, an effective apology isn't just a fix to the immediate problem. Although men often view it as such, to a woman it's also a memorable event—an important test of her man's character and a measure of his love for her. When a man learns to view apologizing as an opportunity to demonstrate consideration and good conversational leadership skills, it results in the woman feeling loved and judging his character to be strong.

THIS BOOK IS AN IN-DEPTH GUIDE TO APOLOGIZING with special attention to the needs of hetero women in love. It delves into the dynamics of a love relationship, including power, leadership, and conversational skills that can make or break an apology.

FAR FROM OFFERING A ONE-SIZE-FITS-ALL FORMULA for apologizing, it provides readers with:

• An understanding of the right mindset for apologizing and how to achieve it

• Specific communication techniques that will increase the likelihood of success during an apology

• Leadership and listening skills that will enable a man to steer the focus of the conversation and remain in control while providing opportunities for his woman to say all she needs and wants to say

• An ordered list of women's preferences regarding what they most want in an apology from their man, according to results of the author's 2010–11 Men's Apology Survey

• Several typical apologies, some that work and others that fall short, and ways that men and women may hear them differently

WHAT THIS BOOK DOES MOST UNIQUELY is to put apologizing in the context of the big picture of a relationship. It shows that, over time, a man can use effective apologies strategically to become a stronger leader of the sort that his woman will admire and become more eager to please.



BUY IT HERE: Amazon or CreateSpace

Cover design by Ellie Searl, Publishista.